26072 Merit Circle #110 / Laguna Hills, CA 92653 949-916-0945 / Fax 949-458-8502
eControls
Comfort365 Videos

Sales Video
Installer Video
Coming Soon
Consumer Video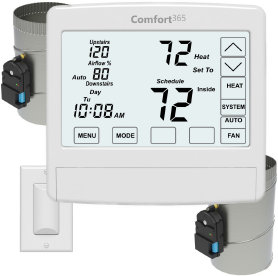 A simple solution for solving the common problem of uneven heating and cooling in a home without using a zoning panel.
The Comfort365 automatically controls heating, cooling and AIRFLOW in two-story homes and provides upstairs and downstairs comfort in all seasons without a zoning panel. The Comfort365 is also used in one-story homes to provide uniform comfort in the living and sleeping areas.

The C365 thermostat monitors the downstairs and upstairs temperatures and every 2 minutes, during a heating and cooling calls, compares the thermostat and the sensor temperatures and automatically adjusts the modulating dampers 2% so that more airflow is directed to the area that needs it for a uniformly comfortable home.
Make sure you're viewing the latest version of our website by clicking the refresh button on your navigation bar.
Material Savings Over Zoning
Easily Upgrade to WiFi
The WiFi version plugs into the same
subbase and only one WiFi thermostat required compared to two for zoning.
Wired solution for Residential New Construction and Wireless Solution for Replacement Market.
over traditional
zoning and less installation labor.
47 to 57% savings
(Pat. Pending)
How It Works
Savings and Features
Features
Labor Savings
No zoning panel to install and wire.
No DAT sensor to install and wire.
No transformer to install and wire.
Reduces wiring by about 50%.
Eliminates bypass damper and ductwork.
Reduces HERS zoning testing.
Energy Saving Night Feature
The Nighttime Airflow Option uses the upstairs temperature sensor to control heating and cooling calls and directs more airflow upstairs while sleeping.
Meets Title 24
The Comfort365 has no effect on the HVAC equipment. The equipment operates at its rated airflow and return temperature.
Wired Solution for RNC or Replacement Applications
Top builders are specifying and installing the low-cost, easy-to-install wired version.
2-wire connection between upstairs temperature sensor and thermostat.
3-wire connection between dampers and thermostat.
Wireless Solution for Replacement Applications
Uses the existing thermostat to equipment wiring.
Upstairs temperature sensor requires no wiring.
Dampers require no wiring to the thermostat and are powered by the equipment 24VAC (R and C).
Wiring Hub Solution for RNC or Replacement Applications. Includes Fresh Air Control
Available 2nd Quarter
Wiring Hub is installed at the equipment and uses the existing equipment to thermostat wiring.
Fresh Air Control per ASHRAE 62.2.
Thermostat uses existing thermostat to equipment wiring.
Plug and play connectors between all dampers and wiring hub.
2-wire connection between upstairs temperature sensor and wiring hub.
Eliminate wiring upstairs temperature sensor by using optional wireless radio and wireless upstairs temperature sensor.
47 to 57% savings
in purchased materials
compared to traditional zoning.